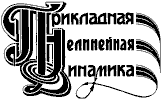 Izv. VUZov, Prikladnaya nelineinaya dinamika, Saratov, Russia, 1995, vol.3, no. 5, pp. 3-15
ATTRACTORS AND BIFURCATION PHENOMENA IN 1-D DYNAMIC SYSTEMS WITH STORED INFORMATION
Yu.V. Andreyev
Institute of Radio Engineering and Electronics of RAS
Mokhovaya st. 11, GSP-3, Moscow 103907, Russia.
Email: chaos@mail.cplire.ru
Izv. VUZov, Prikladnaya nelineinaya dinamika, 1995, vol. 3, no. 5, pp. 3-15.
Received Feb. 20 1995, revised Sep. 22 1995.
---
Abstract
Bifurcation phenomena taking place in the maps with stored information are studied as a function of the slope of information districts of the maps, thus allowing to distinguish the following dynamic structures existing in such systems: stable or unstable limit cycles, chaotic attractors of the kind of cycles of intervals. A possibility of storing information using chaotic attractors is analyzed, chaotic scanning of memory with the use of intermittency is discussed.
---

PDF-source (267 Kb)